MustGrow is publicly traded (TSXV:MGRO; OTCQB:MGROF; FRA:0C0) agricultural biotech company focused on providing natural science-based biological solutions for high value crops, including fruit & vegetable cultivation. 
CAPITAL STRUCTURE

Basic Shares Outstanding
50,076,271
Options/RSU's/DSU's
4,778,494
Warrants
127,000
Fully-Diluted Shares Outstanding
54,981,765
Insider & Advisor Ownership (~19%)
9,542,406
Average Volume (50 day)
25,000
Previous Capital Spent
C$23,000,000
Cash Position
C$3,500,000
Debt
C$800,000
Natural Technology Platform with the Efficacy of Synthetic Chemicals
100% owned patented mustard-derived technology; harnessing the natural defense mechanism of the mustard seed.

MustGrow's natural 

biological solutions to replace synthetic chemicals used in high value crops such as fruit & vegetables and other industries.

Regulatory agencies are restricting or banning existing synthetic chemistries leaving limited alternatives.

Consumers are demanding healthy, natural and organic products.

Producers want to protect their crops with bilogicals but only if they work -- may bilogicals have as today not met performance expectations.

Agchem companies are actively investing in more sustainable natural technologies to replace or compliment synthetic chemicals.

Sustainable farming practices are critical to feed a growing global

population on a finite amount of land.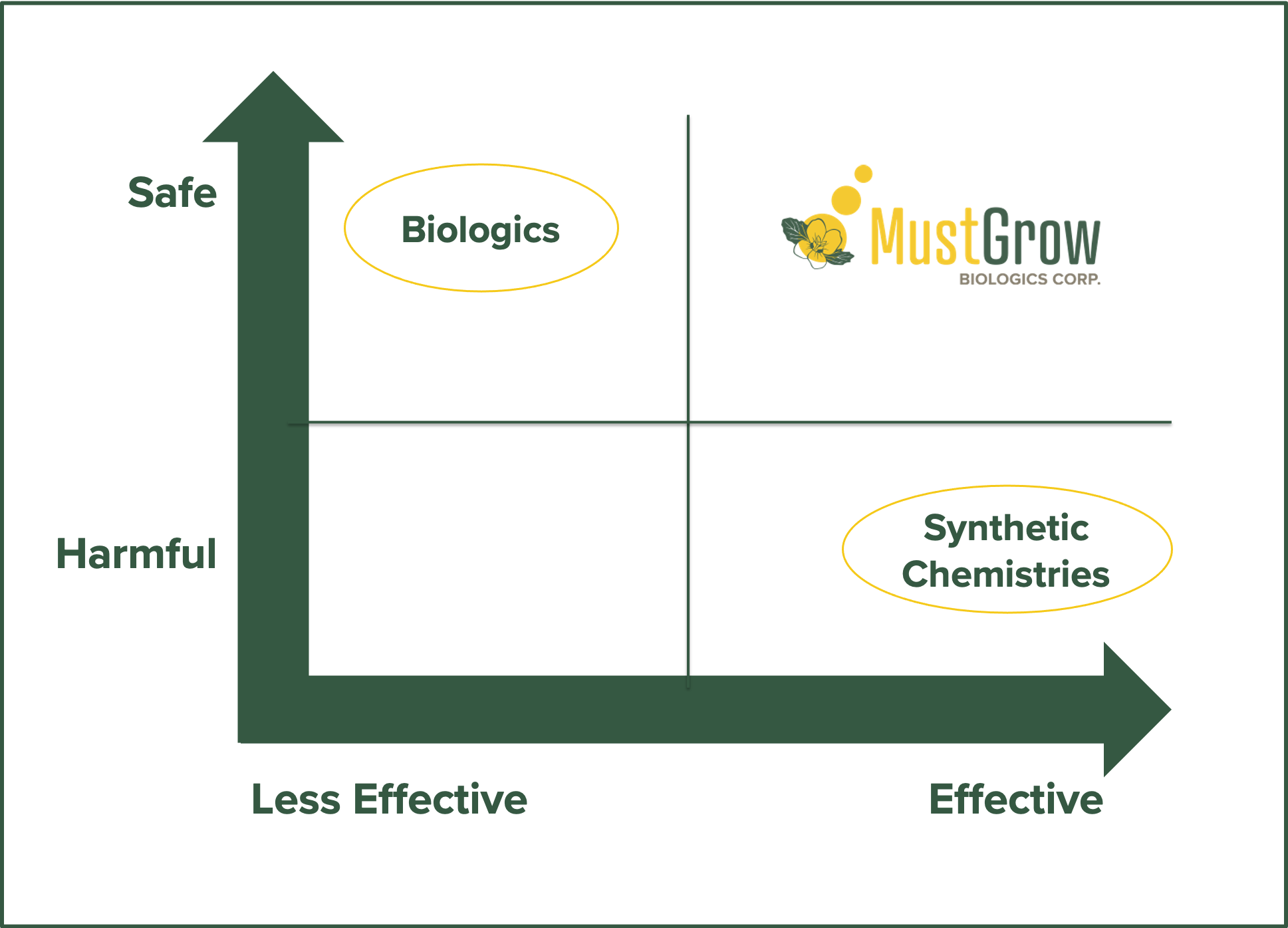 Technology Platform with Application in Many Markets
Preplant Soil Biofumigant

for multiple crops such as fruit, vegetable, turf and ornamental crops.

Bioherbicide

with unique mode of action for organic acres, home & garden and jurisdictions where glyphosate is out of favor or banned.

Postharvest Biopesticide

for storage and food preservation (F&V, bulk grain, shipping containers and food borne pathogens).
MustGrow Receives Registration Approval for TerraSanteTM in Washington State Washington State Department of Agriculture Fertilizer Registration Certificate received to commence sales of TerraSanteTM crop fertilizer and soil amendment product in Washington State....